Service & Support
When it comes to service and support, no one takes better care of you than Maine Technical Source. Just a few more tools to help serivce and support our customers
Service isn't just about calibration and repairs. It's about solutions. It's about expert advice, sharing over half a century of industry knowledge to help you get the job done right.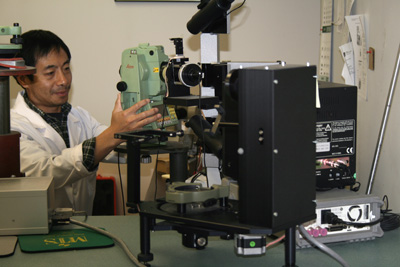 MTS has sophisticated repair and calibration facilities in all four of its locations. We are a fully authorized Leica, Sokkia, Trimble MGIS and Nikon service facilities.
Make your equipment last longer and perform better with minimal downtime.
Authorized Leica Warranty Repair Center
State of the art adjustment and calibration equipment
Factory Trained technicians
Fast and reliable Service and Repair
Use of genuine factory parts for both Survey and Construction equipment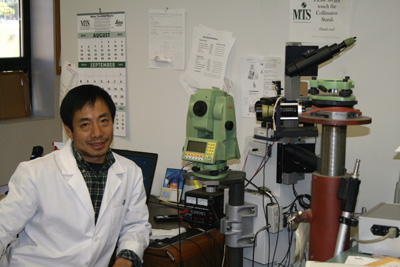 One number connects all four offices 800-322-5003.
Yarmouth 494 U.S. Route One Yarmouth, Maine 04096-6735
fax: 207-846-3674
Contact: Simmie Butts Ext.112
Email: sbutts@mainetechnical.com

Woburn 110 Winn Street Woburn, Massachusetts 01801
fax: 781-932-9450
Contact: J.F. Kang Ext.155
Email: jfkang@mainetechnical.com

Syracuse 2634 James Street, Syracuse, New York 13206
fax: 315-414-0310
Contact: David Filipski Ext. 186
Email: dfilipski@mainetechnical.com

Wappingers Falls 787 Old Route 9 North, Wappingers Falls, NY 12590
fax: 845-297-4861
Contact: David Harris Ext.171
Email: dharris@mainetechnical.com
Recommended Instrument Service Schedule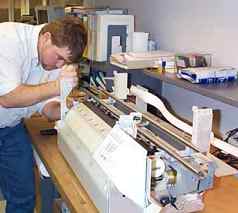 Over the years, we have found several things to be true when it comes to the life of your instrument. As with an item the more care you put into it, the more return on your investment you will receive. Just as you need to change the oil in your car every 3,000 miles, your instrument also needs some basic maintenance every so often. We have found that instruments are used in two types of environments: good environments and harsh environments. After years of diagnosing instruments, we have discovered that a great majority of the problems could have been avoided if a regular maintenance schedule was followed. Below please find our recommended maintenance timetable for your instrument. Whether you own a level, a total station, a laser or a GPS unit, call us if you have any questions.
Always have your instrument evaluated if there is any questions of its performance or accuracy.
Environment
Recommended Maintenance
Schedule
Auto Level
Total Station
Used in Good
Calibrate and Check-up
2 Times a Year
1 Time a Year
External Clean
1 Time a Year
1 Time a Year
Complete Clean
1 Time in 3 Years
1 Time in 5 Years
Used in Harsh
Calibrate and Check-up
4 Times a Year
2-3 Times a Year
External Clean
2-3 Times a Year
2 Times a Year
Complete Clean
1-2 Times a Year
1 Time a Year